At the end of 1999, I discovered that this year's Bayshore Marathon would fall on my 44th birthday, 27 May of this year. That meant I would have to do seven marathons prior to 27 May so I could do #44 on that day. Since I already had one scheduled for 1 January, I knew I was off to a good start. Only six more to go. I set a goal, and proceeded to tell everyone about it, figuring that the more people I told, the less chance I would have to back out.
As soon as the brochure came in the mail, I sent in my registration, along with a letter telling them of my goal and asking if I could get race #44.
The path to #44 included #37 Millennium Marathon 1 January, #38 Winter Fun Marathon in Vandalia Ohio on 23 January, #39 Mardi Gras Marathon in New Orleans on 6 February, #40 Dallas Trails Marathon on 19 March, #41 Chicago Lakeshore 50K on 1 April, #42 Lake County Marathon on 30 April, and #43 Flying Pig Marathon on 14 May. Hugh sigh of relief. Now all I had to do is get through 26.2 miles on my birthday.
We arrived in Traverse City on Friday night, around 9:00. It was a little late to feel like going out to eat a sit-down meal, so I did my carbo-loading at the Mexican Telephone Company (aka Taco Bell) with a couple bean burritos. When we arrived at the hotel, there were messages from three friends with their room numbers, so we checked in and went visiting. Laurie had picked up my race number for me earlier, and I was happy to see that they gave me #44.
The morning came early, with a 7:30 start I usually like to be up by 5:00. At 6:30, runners are showing up in the lounge for breakfast. I like staying at the Best Western, because they always have just what I want before a marathon—bananas, orange juice, coffee, bagels. I ran into old friends Kris Cadwell and Sam Underwood there, as well as a few of the folks from Grand Rapids. Shawn had decided on Friday night that since the marathon only cost $10 more than the 10K, he would get a lot more for his money if he did the whole 26. Seemed logical to me.
My friend Jean from Dallas met me about 7:00, and we headed over to the race start, about a quarter mile from the motel. Nancy tried to take pictures of us, but the batteries in my camera were dead, so the pictures would have to wait until later.
As far as I was concerned, I was there for a birthday party. When the gun goes off, the party starts. I was in this one to have fun, finish, and totally enjoy the day. The temperature was in the high 40s, the sun was out, the weather was perfect. Just the way I planned it.
Jean ran with me for the first half-mile or so, until this extremely cute pair of shorts ran by us and he was off to see if he could keep up with her. At about 3/4 mile, Shawn and his friend John caught up with me. John was doing his first marathon, Shawn his third. The first two marathons Shawn did were the typical go-out-too-fast-and-kill-yourself marathons. When he caught up with me, he told me that he figured I knew how to run a smart race, so he was going to stick with me. (He's normally a little faster.) I was flattered to be considered an "expert" and was happy to have the company. He also had a camera, so our whole experience could be documented.
So, we ran between a 9 and 10 minute pace for a while, walking the water stops every two miles. I knew the course, so I could also be a tour guide. Nearly every step of the course is beautiful, running out along the east side of the peninsula which sticks up into Grand Traverse Bay. We had a view of the water nearly all the time. Sailboats were out enjoying the morning.
Between the 8 and 9 mile mark, there's an unofficial water stop that I look forward to. Every year, the owner of the house has a stereo outside playing Stars and Stripes forever. He's got flags up between the trees, and lots of friends helping out. It's a wonderful part of the tradition.
It's an out-and-back course, so we were soon seeing some of the early starters coming back at us. By mile 10, the leaders were six miles ahead of us, so they were coming at us as well. You get to see all of your friends on the course at Bayshore. Just before the turn at 13, we met Laurie coming toward us, and she mooned Shawn's camera. (Another tradition.) We made the turn at 13 in about 2:08, maybe a little better than I had expected.
Shawn was starting to tire out a little, but was maintaining well. He said to me, "If I decide to puke, I'm going to give you the camera so you can get a picture of it." After all, it's part of the fun, right. At 16, his wife Joyce (the birthday girl) was there and he gave her the camera. She was reassured that we were still together, so she didn't have to worry about him.
Back through the Stars and Stripes, to the 18 mile mark we were staying together, but at the 18 mile water stop, Shawn just couldn't keep going with me. I went ahead without him, by this time doing around 11:xx pace per mile. Still I was feeling great, and having the time of my life. Since I was running by myself now, I started picking the next person ahead of them and working to catch them. I've got a new song I run in my head during marathons now—Iko Iko. Kind of a fun song, plus you can make up verses for all occasions. "See that guy all dressed in black, Iko iko unday, soon he's gonna see my back, jackamo fee na ne." Kinda fun, huh? "See that girl dressed in blue? Soon I'm gonna pass her too." So, I partyed, sang, ran, had a blast.
At about 22, Mark Shell, my hash house harrier buddy (aka Chicken Choker), met me on his bicycle. Only 3 more miles and he had some cold beer stashed. Rosemary, a new friend I met two weeks earlier in Cincinnati, came up behind me and we ran together for a bit. She was using me to pull her along, and she stayed within sight of me until after the 25-mile mark. Just before 25, Mark went ahead on his bike to pour me a beer. It was COLD and VERY refreshing. Just what I needed to start my 26th mile. God Save the Queen. It's Party Time. I skipped the water stop because I didn't want the taste of the beer washed out of my mouth. I picked up the pace a bit, passed a couple of guys with my normal mile-26 encouragement, and headed for home. Turned onto the campus, my only rest during the final mile came when I stopped just long enough to let out a good beer-induced burp.
Mile 26 is at the start, then you turn onto the track for the final .2. It's such a relief, after 26 miles of road, to be running on that rubberized track. Just before the track, Nancy was there with new batteries in the camera, and a sign wishing me a happy birthday/marathon. Everyone around there knew what I was doing by that time, and as I ran onto the track, everyone there was wishing me happy birthday. As I entered the last straightaway to the finish, Jean came out to meet me and made me carry the sign across the finish line, which I crossed at 4:38:03. It was my best marathon time of the year, my third marathon in four weeks, and a terrific way to start a Saturday.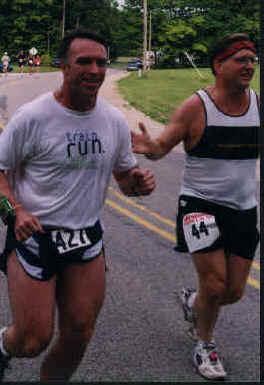 Shawn & Don, at about 3 miles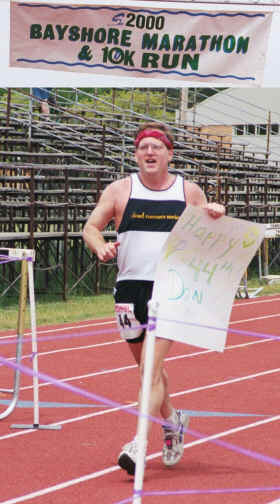 Finish line, 26 miles, 385 yards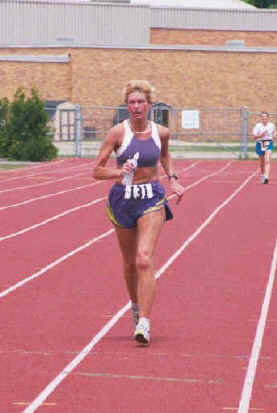 Laurie coming down the home stretch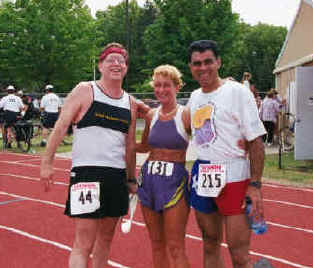 My buddy Jean from Dallas with Laurie and Me