Marathons, Mountains & Microbrews - Tulsa, Oklahoma
The sun rose on Saturday, a beautiful blend of pink, orange, gray and blue backlighting the trees in Tulsa, Oklahoma. Like every other day that ends in a "Y" it would be a great day for a marathon.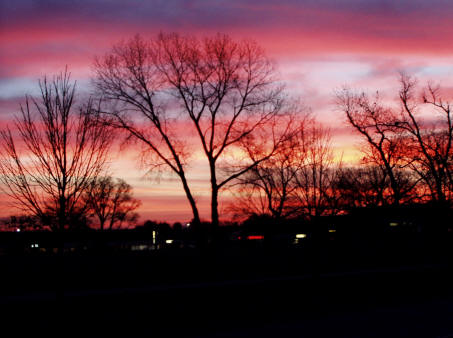 In July, I ran a marathon in Hawaii, my 45th state. That was when the light came on at the end of the tunnel and the anticipation began to build toward the end of my quest to run marathons in all 50 states and DC. Through these past four months, five marathons, eleven state high points, and numerous microbrews, the anticipation mounted. The moment of truth (or some other overused cliché) was finally here.
There was talk earlier in the year of making this a road trip with a bunch of friends, but as the day approached, only two had agreed to come with me--Big John and Francine. Two weeks before, however, Big John had some problems and had to drop out, so just Francine and I flew to Tulsa.
It worked out well, because we both had a four-hour goal in mind--hers to qualify for Boston, and mine was to beat my personal record of 3:59:48 set in 1998. The pacing would be good for both of us, because she's faster than me, but I've got more experience in long distances. She would pull me along, I would hold her back. Should work well.
Interesting liquor laws make for very few microbreweries in Oklahoma, but I did manage to find Okie Dokie's for lunch. The brew was from their location in Oklahoma City. The Downtown Brown had a pretty nice flavor.
We walked part of the marathon course, which would take us out and back along the Arkansas River, doing the same loop twice. After a couple miles of walking we got back to the parking lot where a girl was just getting on her bike to ride off. As she pushed down on the pedal, the chain slipped off the sprocket and the bike fell over. She looked up and asked if I could help. Not able to resist a damsel in distress....
Thirty seconds later, the chain was back on. She looked into my eyes and smiled and said, "Now, I've got something for you." My curiosity rose (or at least I thought that was my curiosity) as her hand went into her jeans. She pulled out a slip of paper, and on it was the most wonderful network marketing business opportunity. Thunk! My heart, along with everything else, stopped throbbing. Still, it was the smoothest, get-your-foot-in-the-door line I'd ever seen. I'm still wondering how she rigged her bicycle chain to do that?
It was time for the pasta dinner, with special guest speaker John "The Penguin" Bingham. I first met John at a Dead Runners Society encounter dinner in Columbus in 1995, the night before my second marathon. As we approached a table with two seats left, my bi-polar traveling buddy Brent Weigner spoke up and said, "Have a seat." Lots of other 50 State friends were there as well. Susan Daley, with whom I jumped off a bridge in New Zealand, came to run her 260th marathon.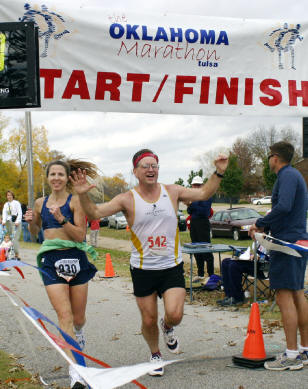 Marathon day greeted us with a beautiful sunrise. We started at 7:30 for a short loop around one of the many wildlife sculptures in the park, then headed north along the river for the first half. Mile one was only 7:50--way too fast--we only needed 9:00 per mile. We backed off a bit, but still managed to hit the 7-mile mark just under an hour. The first half was over in 1:55:04, but Francine kept telling me she couldn't maintain the pace, and I had a feeling I couldn't either, as the temperature was now up into the 60s and the humidity was quite high. At 17 miles, we both determined that four hours wasn't going to happen, so we'd back off and finish feeling good. It was a good plan. The wind picked up and was blowing in our faces as we ran the final six miles back to the finish line.
Francine was running her fourth marathon, with a previous record of 4:50. We crossed the finish line in 4:15, and were presented our finisher's medals by The Penguin. Brent was there to congratulate me on finishing the 50 states. I grabbed a couple drinks and flopped down on the grass, basking in the Tulsa sunshine and in the glow of another marathon finish.
There were no real mountains on this trip, but I feel as if I climbed a figurative one--I've now run marathons on all the continents and in all of the states. Most times, the anticipation is greater than the realization. Not this time. I finished the marathon, paced a friend to a new personal record, celebrated with old friends and made some new ones. This is what I call "Life the way God intended it."
and the adventure continues....
Don Kern
www.cooladventures.net
50 States + DC & All 7 Continents Marathons completed