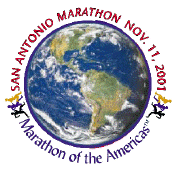 When you're feeling a little Mexican...
"I'll make you a deal David. You sign up for the marathon in San Antonio and I'll go along and run it with you." I wasn't going to let our little Mexican friend get out of it this time.
David Castillo has been threatening to run a marathon for nearly five years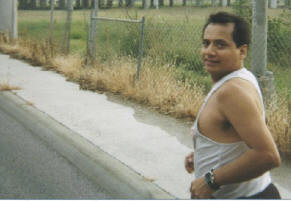 now. With family in San Antonio, he visits the area frequently and wanted to do his first marathon there. A little peer pressure, and there was no getting out of it this time. "This is my first and last marathon," he said.
It was warm in San Antonio, and when we arrived at the Alamo Dome (home of the San Antonio Spurs) for the marathon an hour before the start, it was already in the mid-60s. It would be a slow run, but we would have fun anyway.
David's plan was to finish the marathon. Mine was to make sure he did.
We started the marathon, and during the first mile we picked up a new friend, Kit. He liked our pace, so he decided to stay with us for a while. Because of the heat, we were keeping a slow but steady pace between 9:15 and 10:00 minutes per mile. Two miles took us back to the Alamo Dome, and then we headed for the downtown area. After another mile or so, we went past the Alamo.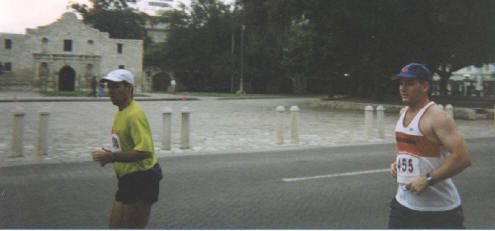 Even on the hot day, there were enough turns, out-and-back loops, and little hills to keep the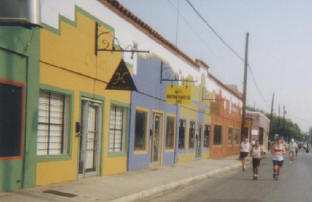 miles clicking off pretty fast. The course wasn't particularly scenic, but it was diverse enough to keep it interesting. At every mile, I'd count down to party time at the 25-mile mark. Several years ago, I decided to start partying at the 25-mile mark of a marathon. It always makes the last mile more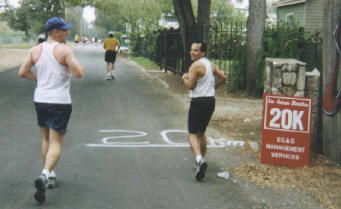 enjoyable. Besides, anyone who's still perpendicular at 25 miles can finish a marathon.
At 15 miles, Kit had to stop and stretch his knee, so we didn't see him any more until the end. I could see that David wanted to go faster, so I told him to go ahead. "Just take it easy and walk through the water stops. Don't kill yourself."
At 20 miles, I was getting pretty disappointed that the Hash House Harriers didn't have an aid station set up anywhere, because I seriously wanted a beer. Alas, even at the finish line, there would be no beer to be found. I took my last salt tablets and a couple of acetaminophen.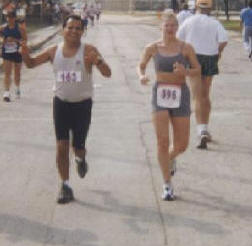 During the out-and-back section between 22 and 24 miles, I saw David again, nearly a mile ahead of me. He had found a pretty running partner named Jessica, with whom he went on to finish the race. The drugs and the extra minerals started to kick in, and I was feeling real good, so I started picking up the pace a bit for the last three miles.
I was running back and forth with several people the last ten miles or so, including two girls doing their first marathon. When "Party Time" started at the 25-mile mark, one of them asked me if I had written to the National Marathon Board to try and get myself designated the "Official Encourager."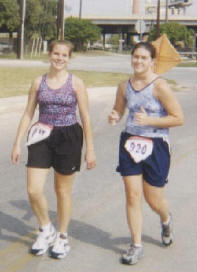 I was trying to pace them through the last mile, but I had so much energy and attitude left that I just couldn't stay back with them. As I passed some of my other running partne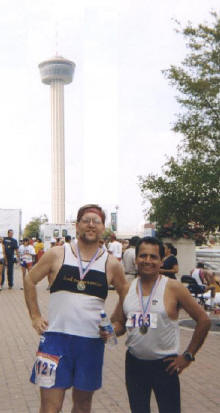 rs in the last mile, we encouraged each other, and worked the last mile together. The Alamo Dome came into sight, and then the finish line.
Fourteen minutes earlier, David had finished his first marathon. He was looking pretty fresh for a rookie. We were served rice and beans to help us replenish as we stayed around to visit with some of our new friends.
"I had fun out there," David said, "I might do that again sometime." The slow pace, walking the water stops, and not going out too fast turned the experience into a good one. We kicked back for a couple hours, then went down to the River Walk for some Mexican food, then a couple of beers at Dick's Last Resort. We got back to the room at 7:45 p.m. Fifteen minutes later, David was sawing logs. I didn't hear from him again until Monday morning.
We're back in Michigan now. The little Mexican is walking a couple of inches taller. And he's planning for his next marathon.
and the adventure continues....