The Legend of Dr. Rick and the Pickle Juice
Detroit Marathon Report - October 2001

The Motor City. I normally don't run two marathons a month--but since it's only a couple hours away and a bunch of my friends were running, I decided to go anyway.

The expo at the Renaissance Center was our first small adventure. The previous Sunday, Dr. Bob called Shawn to see if he wanted to team up in the two-person relay. After trying to register online and finding the race was capped, Shawn decided to use his silver tongue and negotiate an entry anyway. We sought out Pat, the race director, waiting patiently for an hour for her to return to the expo. Shawn started talking. We watched from a few feet away, just out of earshot, while she pulled him over to the side. There were frowns. Slight aggravation. Then a quick reversal to smiles. The congratulatory hug between them told us the deal was closed. Shawn filled out his entry form while I called Dr. Bob to get his info and tell him to pack his racing shoes. Dr. Rick was only fifteen minutes away from picking him up. So Bob would now have to run instead of just slumming all weekend. Pat asked Shawn for his relay team name when he turned in the entry forms. Team Kenya. Of course.

Shawn and Joyce, Stephanie & Susan, Doctors Rick and Bob, and I had a free place to stay at Steph's cousin's house in Sterling Heights. Paul and Debbie were excellent hosts, and their services also included pasta dinner. After the rest of us finished eating, the Docs finally showed up--Bob carrying his running gear, Rick with a big jar of pickles. Every few minutes, Rick would take a swig of the pickle juice. Seems that he wanted to prevent cramping by saturating his body with salt, and pickle brine is about as salty as it gets. According to the best sources we can find, it hasn't been banned by the IOC yet, either.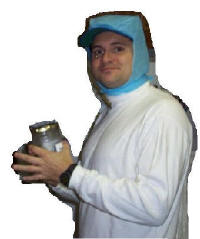 As in any scientific experiment,
strictest sanitation was observed

Dr. Bob and Shawn, weighing in at a combined weight of somewhere north of 400 pounds, were thinking they were a bit under trained. Someone pointed out that "under trained" would indicate that some training had actually take place. That point may have some merit. After all, it's Team Kenya--as in, "Kenya believe a couple of fat white guys are really going to do this thing?"

Rick rode with me to the race. The faint odor of dill was in the air as we approached downtown Detroit.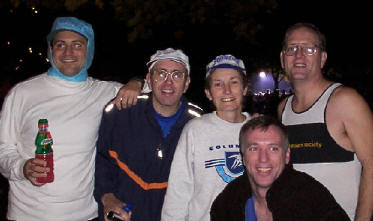 The plan was for me to pace Steph through 18 miles at 9 minutes per mile. Steph, however, still battling the demons of a former elite runner, couldn't wait for me to get out of the port-a-john line before she had to get to the start. A tooth extraction two days earlier was also causing her considerable discomfort and a lot of concern. I didn't see her again until I was at nearly 16 miles.

The weather was perfect--overcast and in the mid-50s. Dr. Bob took the first leg for Team Kenya, so he and I started together. We ran on to Belle Isle, and after four miles, Bob dropped back, and would finish his half of the marathon about 7 minutes behind me. Other members of the Grand Rapids Track Club passed me--the youngster Mike Kozlowski running his second marathon, finished warming up, passed me at about 4 1/2. Later at about seven miles, Steve Wilcox, pacing Anne, Kim and Holly came by. No one had seen Steph anywhere. I figured she was still ahead of me.

At the half-marathon relay exchange zone, Shawn waited to take the baton from Dr. Bob. He was taking pictures, along with our hosts, Paul and Debbie, as I finished the first half in just about two hours. Dr. Rick, pickle juice sloshing its way through his innards, was nearly a half-hour ahead of me by that time. I had passed Steph somewhere on Belle Isle, because she still hadn't arrived at the half-way point.

Three miles later we would pass the half-marathon point again, heading back toward downtown. Steph was there, already with her coat on, having succumbed to the pain in her jaw where the tooth used to be. Shawn was supposedly five minutes behind me. I thought that by mile 20 he would catch up with me. I figured he could pace me the last few miles. Maybe not.

At about 18.5 miles, a man sat in his front yard in a lawn chair beside a cooler. On top of the cooler sat two bottles of beer, and a handwritten sign that said, "Free Beer" was more temptation than I wanted to resist. I ran off the road and picked up a bottle, popped the top, and thanked my benefactor. People running around me were cheering, "Way to go man!" and other similar sentiments. I wondered, since people think it's so cool to get a beer in the middle of a marathon, why don't more people do it? Three blocks later, I asked a guy raking leaves in his front yard if he could turn the bottle in for me. I told him he could drop my ten cents off at the finish line.

I was having a good time. We continued downtown and around the new Tiger Stadium. Around the back side, coming out of a water stop, I saw a girl (Beth) I had been running back and forth with all day wearing a first-timer number. It was the time in a marathon that I needed someone to coach, and she looked like she might appreciate some coaching. I turned to her and said, "Let's finish this race." We ran the last almost 4 miles together. At 24 miles, Beth's husband joined us for a couple hundred yards. She told him, "This is my man here. He drank a beer!" Hubby thought that was cool too. When we passed 25 miles, we picked up a guy from Plano Texas, wearing the traditional Texas Lone Star running shorts. We would pass him as he walked, then he would start running and pass us, and I kept encouraging him through the last mile. After we passed mile 26, Texas passed us for the last time, patting me on the back and thanking me for the help. Beth and I crossed the finish line in 4:24, which is my second best time in the last three years.

Somewhere along the line, probably around 23 miles, Shawn, the second half of Team Kenya, passed me, finishing the race with Kim about 5 minutes ahead of me. Anne and Steve had finished around 12 minutes earlier. Speedy young Mike finished in 3:42.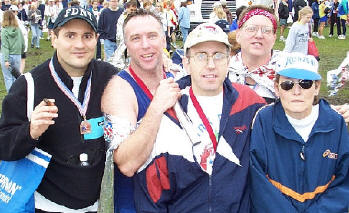 Meanwhile Dr. Rick, pickle juice coursing through his veins, ran a 3:15 marathon, and qualified for Boston for the second time this month. He smoked his traditional post-race cigar, and returned home to work on an article for the New England Journal of Medicine on the effects of pickle juice in the marathon running and recovery regimen. As for me, I'm sticking with beer.
and the adventure continues....
Marathon Don