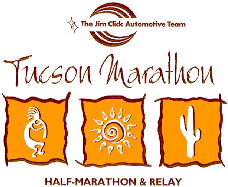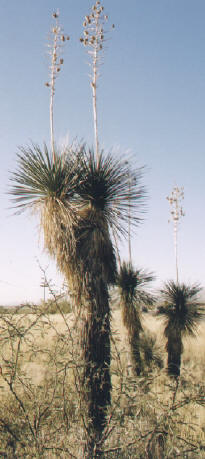 You can't always get what you want,

Interesting weekend. After a month of fighting a cold, I landed in Tucson Friday afternoon with a really bad cough. No problem. I'll just pamper myself a bit, take it easy, get some rest, and I'll be good as new by Sunday morning.

Saturday wasn't much better. I got up early, had breakfast and did some shopping, then headed out to the El Conquistador to pick up my race packet. Breathing was a little tough, and the coughing didn't quit. I spent the afternoon just lounging around, hoping that things would loosen up by Sunday morning. Saturday night was the Dead Runners Society dinner that Ted Glenn organized, and while it was fun, it would have been much better had I not been coughing all evening. I hope I didn't offend anyone.

Sunday morning came, and the chest was still tight. A prudent, competitive runner would have had the sense to bag this one. I, however, am neither. Heck, I'm already here, I've never done Arizona, and I paid for this race. Might as well run it. Maybe things will loosen up.

You can't always get what you want,

It wasn't a bad start. I used my albuterol inhaler, and the first seven miles were actually going ok. Not as fast as I'd like, but I was maintaining sub-10 minute miles. But not only was the course all downhill, my race was all downhill after that. My lungs tightened instead of loosening, and I was slowing steadily as I went along. By the time I was at 15 miles, the miles were taking 15 minutes, with frequent stops to clear my lungs (details omitted). It was coming down to a

choice--I could run, or I could breathe. I figured I breathing was better. So, it was going to be a long day. Fortunately, after 64 marathons, I have a real good idea how long they are, and that even on bad days, 26.2 is a finite distance as long as forward motion is maintained.

You can't always get what you want,

At the expo, the Clif Bar people were giving out those nice Tyvek wristbands with pacing charts on them. While I was having the most difficult marathon performance of my career, it was clear that many other people were having bad days as well. All along the way, the wristbands were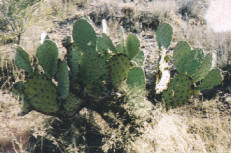 discarded. As far out as 20 miles, I saw bands on the ground that indicated a 4:20 pace was an abandoned goal. The goal paces on the bands seemed to get faster as the race progressed--one dashed goal after another--3:40, 3:20, 4:00, 2:55.... Each band discarded with an "Oh Sh*t!" or some similar expletive indicating the disappointment of the former wearer, missing a goal, a Boston qualifier, losing a bet, or having an otherwise less-than-expected marathon.

I wasn't the only one having a bad day. And while I feel bad for those disappointed runners who went before me, at least I knew I was in good company.

But if you try sometimes you find
You'll get what you need.

Though I was slow, everything but my chest was feeling pretty good. At around 18 miles or so,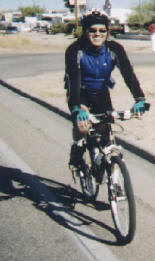 Ted came up on his bike and rode along beside me for a while. His company was welcomed, and he stayed with me for about a mile before heading in to a station for some air for his tire. My mile 19 was 20 minutes long, with lots of stops to catch my breath and clear things out. Shortly, Todd Byers and Tonia came up behind me. Todd saw my Dead Runners singlet and went along with me for about a mile and a half. He would walk with me for a bit, then start to run to catch back up with Tonia, and I'd run with him. I managed to stay with him for nearly two miles as we got acquainted. The miles were getting better. That's about the time I met Diane Irwin. She was running just about my speed, and we started talking as we went along. She was working on a personal record, sub 6:00 marathon. AT LAST! Somebody I can coach through the end of this thing. So, she ran, and I race-walked/ran the rest of the course right around a 15 minute pace. My soul purpose those last 4 miles was to make sure that Diane finished in under six hours. Her mom, dad, and brother met us along about the 24-mile mark and walked with us for a few minutes. I snapped a couple pictures of her, as well as her twin brother (who was supposed to be doing this with her but had sleezed out:-)) The last two miles were easy (but slow) as we went up the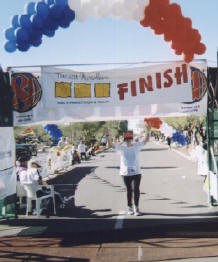 slight incline, made the final turn, and saw the finish line, just a couple hundred yards ahead. I crossed the line ten seconds ahead of her and took her picture as she finished with a net time of 5:51:11.

Diane had a PR. I had several new friends, my 30th state marathon finish, and on Tuesday morning I found out--a case of pneumonia.

and the adventure continues....