June 2001 Sunburst Marathon.

There I am, running down the football field in Notre Dame Stadium. I hear the crowd chanting Rudy Rudy Rudy …..

But then I usually have weird stuff going on in my head at the end of a marathon.

Because the rest of the year could get real expensive, I decided to go close to home this month. South Bend is the venue for the Sunburst Marathon. I was last there in 1996, a year when they were working on the stadium and therefore had the finish on the practice field. This would finally be the year I'd run out onto the field….

I met Paul Low a week earlier at the Hair of the Frog Brewery, where we hang out on Friday nights—running a few trails and drinking a few beers. We decided to ride together to the race. On the way down, I asked him what time he was shooting for. "Oh, about 2:20 or so," he said. That kind of time could win this marathon. I didn't realize I was chauffeuring an elite runner. It was a meeting of two different worlds—Me, a 45 year old back-of-the-pack runner who wouldn't know how to handle a fast-twitch muscle if one were by chance found in my body someplace, and Paul, a front running elite who only sees guys like me if he runs an out and back course.

Two years earlier, Paul had finished second in this race, so when we went to pick up our registrations, his was, of course, complimentary. He took a little time to talk to the elite runner coordinator and scope out the competition. The pasta dinner was served outdoors in some very hot sunshine at the College Football Hall of Fame. After the normal eating and chatting, we headed off to check into the hotel and have a relaxing evening preparing for the race.

Six a.m. was the start time at the Hall of Fame. Not too bad since we were only a few miles south of the Michigan border it was 7:00 our time. We got there early, but even if we hadn't, parking was readily available and free.

The course includes two out and back sections, so I would see Paul during the race. And nearly everyone else too. I ran into fellow Wayland Road Runners Sue Brewer and Dan Stevens and started with them. Another local running acquaintance, Laurel Cihak, was out front with the fast people.

When I was somewhere around six miles, the lead pack would come back at us. It was easy to spot the skinny white guy running right up front with five Africans from Kenya and Ethiopia. Unlike most really fast guys I've seen, Paul spoke to me, smiled and waved on his way past. The next time I saw him was right about the time he hit his watch for his 22-mile split. This time, it was Paul and only three Africans. I was at around 13 miles at the time. Again, he saw me and we spoke on the way past each other. I yelled at him, telling him if he beat those guys I'd give him a ride home.

Two or three miles farther, they were passing out fruit at one of the aid stations. Fresh strawberries and watermelon were a welcome site on a warm day. And, darn it, the course came back through the same aid station only a few miles later.

Before I got back to the fruit station, I ran into another friend, Dean Peterson. He's easy to spot, in his hand-lettered shirt that says "HI. I'M DEAN." Dean and I met last August, on another hot day in Omaha Nebraska. That time he finished ahead of me. Today he was a mile or so behind. But he always has a good attitude, so it was great to see him.

Training has been going well the last couple months, so I was looking forward to this one. Maybe I could make it two in a row in under 4:30. At 18 miles, I was five minutes ahead of my time two weeks earlier at Bayshore. Maybe I can hit 4:20 this time.

OK, maybe not. It started to get hot about that time, and my body decided to slow down a little bit. Still, I was feeling good. Just slow. At about 22 miles, I came upon Dan, who apparently wasn't going to make his 4 hour goal today. We ran together for a couple minutes, and another friend, Fred from Kalamazoo saw me and came and ran a mile or so with us, giving some encouragement along the way. Fred ran the 10K earlier. Well, the company and good words did Dan some good, because he took off ahead of me and I didn't see him again until the finish.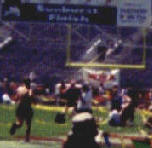 By the time I got to the 25-mile mark, we were on campus. My normal 25-mile God Save The Queen – It's Party Time strategy worked well, and I was able to pick it up and pass a few people in the last mile. I started thinking of the movie Rudy, knowing that soon it would be me running onto the field. The 26-mile mark is just outside the stadium. I sprinted (so to speak) through the tunnel and onto the field. The crowd went wild. Well, maybe not, but it's my story, right? Paul shot a couple pictures of me as I approached the finish, which happened at 4:32:58.

photo & effects by Paul Low
( the really fast guy)

He had finished in 2:26:17, for a fourth place overall finish and was the first American to cross the line. I dragged him over to the finish line to take a picture of him with his plaque.

Laurel won the Women's Masters division in 3:14
Dan found a good amount of energy, and finished in 4:27
Sue won her age group in her FIRST MARATHON in 3:30.
Dean had a kinda slow day, finishing in 5:20.
Fred went back to encourage other runners along the way.

Well, even though he didn't beat the Africans, I still gave Paul a ride home. With some quick calculations I figured that the average marathon time for the guys who rode to the race in my Aztek was 3:30. Not bad.

and the adventure continues….